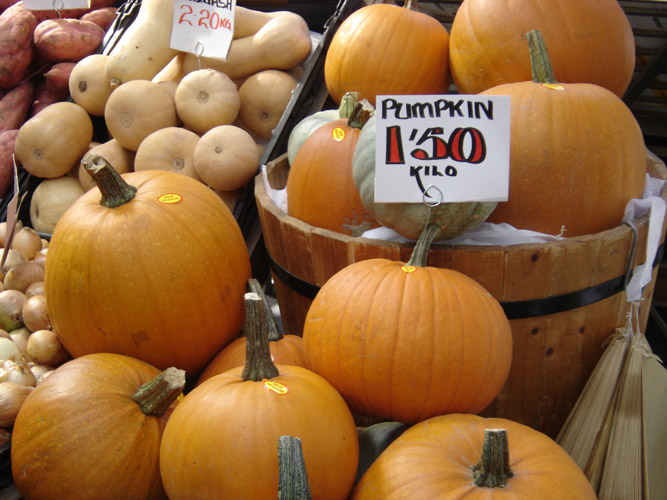 Origins
Selection of links






ORIGINS of HALLOWE'EN
About 2,000 years ago the Celts lived in what is now Ireland, the United Kingdom, and northern France. They considered the end of the year to be the end of the harvest
(1)
season. So, they celebrated new year's eve
(2)
each year on October 31st with a festival called "Samhain," named after their Lord of the Dead
(3)
(also known as the Lord of Darkness). Druids (Celtic priests) presided over Samhain (pronounced 'sow-in').
Winter was associated with human death
(4)
. The Celts believed that the boundary
(5)
between the worlds of the living and the dead mixed : ghosts
(6)
of the dead to return to earth
(7)
. Celts thought that the presence of the ghosts made it easier for the Druids to predict the future. These predictions were an important source of comfort and direction for the Celts during their long, dark, frightening winters.
To celebrate Samhain, the Druids built big sacred bonfires
(8)
: the Celts burnt crops
(9)
and animals as sacrifices to their ancient gods
(10)
. During the celebration, the Celts dressed up in costumes consisting of animal heads and skins
(11)
and tried to tell each other's fortunes.
Later the Celts were conquered by the Romans, and about 43 AD
(12)
two Roman festivals were combined with the Celtic Samhain festival.
By 800 AD, the influence of Christianity spread into Celtic lands. Pope
(13)
Boniface IV designated November 1st as All Saints' Day
(14)
, a time to honour saints and martyrs. The celebration was also called "All-hallows" or "All-hallowmas" and the night before it, the night of Samhain, began to be called "All-hallows Eve" and, finally, "Halloween".
VOCABULARY NOTES
(1) harvest - récolte
(2) new year's eve - la veille du jour de l'an
(3) the dead - les morts
(4) death - la mort
(5) boundary - frontière, limite
(6) ghost - fantôme
(7) earth - la terre
(8) bonfire - feu (de joie)
(9) crop - culture, récolte
(10) god - dieu
(11) animal heads and skins - têtes et peaux de bête
(12) AD - Anno Domini, après Jésus Christ
(13) Pope - le Pape
(14) All Saints' Day - la Toussaint
SELECTION of LINKS




resource ac-nancy-metz.fr

colouring pages
kidsturncentral.com

pumpkin jigsaw puzzle
primarygames.com

fall jigsaw puzzle
primarygames.com

vocabulary and test
xtec.es

cliparts hellasmultimedia.com

cliparts

history historychannel.com

recipes, traditions, songs... jackolanterns.net

worksheets (.pdf) p6.hostingprod.com

interactive Alfy's story alfy.com

worksheets (.pdf) langedizioni.com

virtual haunted house with narration

FAQ woodlands-junior.kent.sch.uk