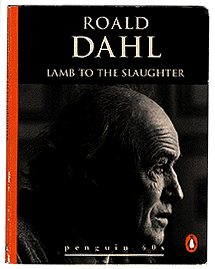 introduction
presentations
worksheets
pictures from Hitchcock's film
links




Introduction

"Lamb to the Slaughter" is a short story written by Roald Dahl in 1954. It was part of the "Someone like You" collection of short stories.

Alfred Hitchcock produced 5 TV Seasons from 1955 to 1962. Lamb to the Slaughter was in Season 3, Episode 28. It was released on 13th April 1958.

SYNOPSIS
When Mary Maloney's police chief husband is found murdered, the police investigate and have a hard time trying to find the murder weapon.

CAST
Barbara Bel Geddes .... Mary Maloney
Alfred Hitchcock ........ Himself - Host
Harold J. Stone ......... Lieutenant Jack Noonan
Allan Lane ................ Patrick Maloney
Ken Clark ................. Mike O'Malley
Otto Waldis .............. Sam


---
Presentations to TV shows By Alfred Hitchcock
BEGINNING
He gave me this ticket for blocking an aisle during the rush-hour. I don´t understand, I was in the slow lane. I´d just stopped a moment at the condimentshop where the store´s having a get-acquainted sale on Low Calorie Calories. Tonights play is not unrelated to this milieu. It is called 'Lamb To The Slaughter'. But before we see it, the store has asked that I direct your attention to their very best bargain.
END
Well, that´s the way the old meat ball bounces. As for Mary Maloney, she would have gone scotfree if she hadn´t tried to do in her second husband the same way. Unfortunately he was the forgetful type and had forgotten to plug in the freezer. The meat was as soft as jelly. Speaking of plugs, that is precisely what our sponsor wants to do for his product. After which I´ll wheel back. (clip) And now, ladies and gentlemen, those of us who work in television, have a technical term for this part of the programme. We call it, The End. Next week we should be back with another story. (honk, honk) I must be going, I can´t risk another ticket. Good night.
---
Worksheets
complete text (3 parts)

.pdf

.doc
.html
complete TV episode transcript

.pdf

.doc
worksheet on Part Two

.pdf

.doc
worksheet on video extract murder - phone calls

.pdf

.doc

extracts and activities
is Mary Maloney guilty?
Forum yougotthepoint.online.fr
free essay
freeessays.tv
activities online
roalddahlfans.com
matching exercise
Part One projectx2002.org
matching exercise
Part Two projectx2002.org
questionnaire
englishrocks1.tripod.com