---
CARROLL
Lewis (1832-1898)

Lewis Carroll is the pseudonym of the English writer and mathematician Charles Lutwidge Dodgson, born on January 27th 1832 He is known especially for "Alice's Adventures in Wonderland" (1865) and "Through the Looking Glass" (1872) : child ren's books that are also dis tinguished as satire and as exam ples of verbal wit. Carroll invented his pen name by translating his first two na mes into the Latin "Caro- lus Lodovicus" and then anglicizing it into "Lewis Carroll."
The son of a clergyman and the first born of 11 children, Carroll began at an ear ly age to entertain himself and his family with magic tricks, marionette shows, and poems written for homemade newspapers. From 1846 to 1850 he attended Rugby School; he graduated from Christ Church College, Oxford, in 1854. Carroll remained there, lectu- ring on mathematics and writing treatises and guides for students. Al though he took deacon's orders in 1861, Carroll was never ordained a priest, partly because he was afflicted with a stammer that made prea ching difficult and partly, perhaps, because he had discovered other interests. He excelled especially at photographing children. Alice Lid- dell, one of the three daughters of Henry George Liddell, the dean of Christ Church, was one of his photographic subjects and the model for the fictional Alice. Car roll's comic and children's works also include "The Hunting of the Snark" (1876) two collections of humorous verse, and the two parts of "Sylvie and Bruno" (1889, 1893), unsuccessful attempts to re-create the Alice fantasies. As a ma thematician, Carroll was conservative. As a logician, he was more interested in logic as a game than as an instrument for testing reason. He contributed, in "Jabberwocky," the word chortle, a portmanteau word that combines "snort" and "chuckle," to the English language.
wit : jeux de mots, esprit
entertain himself : se divertir
tricks : ruses, astuces
attended : a suivi les cours
lecturing : a fait des ocnférences
deacon : diacre
stammer : bégaiement
attemps : tentaives
snort : grognement
chuckle : gloussement
Alice's Adventures in Wonderland (1865)
Through the Looking Glass (1872)

TOP
of the page
---

CHRISTIE
Agatha (1890-1976)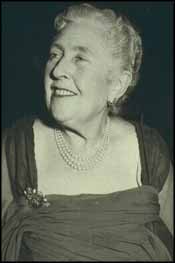 Agatha Chrisite was born in Torquay, in the county of Devon, as the daughter of Frederick Alvah Miller, an American with a moderate private income, and Clarissa Miller. Her father died when she was a child. Christie was educated home, where her mother encouraged her to write from very early age. At sixteen she was sent to school in Paris where she studied singing and piano. Christie was an accomplished pianist but her stage fright and shyness prevented her from pursuing a career in music. In her books Christie seldom referred to music, although her detectives, Poirot and Miss Marple, show interest in opera and Poirot sings in "The A.B.C. Murders" (1936) a World War I song. When Christie's mother took her to Cairo for a winter, she wrote there a novel. Encouraged by Eden Philpotts, neighbour and friend in Torquay, she devoted herself into writing and had short stories published.
In 1914 Christie married Archibald Christie, an officer in the Flying Royal Corps; their daughter, Rosalind, was born in 1919. During World War I she worked in a Red Cross Hospital in Torquayas a hospital dispenser, which gave her a knowledge of poisons. It was to be useful when she started writing mysteries. Christie's first detective novel, "The Mysterious Affair at Styles", introduced Hercule Poirot, the Belgian detective, who appeared in more than 40 books, the last of which was "Curtain" (1975). The Christies bought a house and named it 'Styles' after the first novel. Poirot was an amiably comic character with egg-shaped head, eccentric whose friend Captain Hastings represents the "idiot narrator" - familiar from Sherlock Holmes stories. Poirot draws conclusions from observing people's conduct and from objects around him, creating a chain of facts that finally reveal the murderer. '"He tapped his forehead. "These little grey cells. It is 'up to them' - as you say over here."' Behind the apparently separate details is always a pattern, which only Poirot is able to see.
Miss Marple, an elderly spinster, was a typical English character, but when Poirot used logic and rational methods, Marple relied on her feminine sensitivity and empathy to solve crimes. She was born and lived in the village of St. Mary Mead. Both Poirot and Marple did not have any family life, but Poirot also travelled much. Marple was featured in 17 novels, the first being "Murder at the Vicarage"(1930) and the last "Sleeping Murder"(1977). She was reportedly based on the author's own grandmother. Miss Marple made her first screen appearance in 1961 in "Murder She Said", starring Margaret Rutherford. It was based on the novel "4:50 From Paddington"(1957). It was followed by "Murder at the Galop" (1963), "Murder Ahoy" (1964), and "Murder Most Foul" (1964), all directed by George Pollock. The BBC TV series starring Joan Hickson ran 1984-87. Gracie Fields played Miss Marple on television in an adaptation of "A Murder Is Announced" (1956).
Christie's marriage broke up in 1926. Archie Christie, who worked in the City, announced that he had fallen in love with a younger woman, Nancy Neele. In the same year Christie's beloved mother died. After hearing that her husband had left for Miss Neele's house, Christie disappeared for a time. "I would gladly give £500 if I could only hear where my wife is," said Colonel Christie. The story of her real life adventure in 1926, when she lived in a Harrowgate hotel under the name Mrs. Neele, was basis for the film Agatha. It was directed in 1978 by Michael Apted. In title role was Vanessa Redgrave. Christie's divorce was finalized in 1928, and two years later she married the archaeologist Max Mallowan. She had met him on her travels in Near East in 1927, and accompanied him on his excavations of sites in Syria and Iraq. Later Christie used these exotic settings in her novels "Murder in Mesopotamia" (1936) and Death on the Nile (1937). Her own archeological adventures were recounted in "Come Tell me How you Live" (1946). Mallowan was Catholic and fourteen years her junior; he became one of the most prominent archaeologist of his generation. Of her marriage the writer told reporters: "An archaeologist is the best husband any woman can have. The older she gets, the more interested he is in her." Mallowan worked in Iraq in the 1950s but returned to England, when Christie's health grew weaker. His most famous book was "Nimrud and its Remains".
Christie's most prolific period began in the late 1920s. During the 1930s he published four non-series mystery novels, fourteen Poirot novels, two Marple novels among others. During WW II Christie worked in the dispensary of University College Hospital in London. She also produced twelve completed novels.
By 1955 Christie had become a limited company, Agatha Christie Ltd, which was acquired in the late 1960s by Booker Books. It had already acquired Ian Fleming. In 1967 Christie became president of the British Detection Club, and in 1971 she was made a Dame of the British Empire. Christie died on January 12th 1976 in Wallingford, Oxforshire. Mallowan died two years later, but he had married after Christie's death an old family friend. With over one hundred novels and over one hundred translations into foreign languages, Christie was by the time of her death the best-selling English novelist of all time. As Margery Allingham said: Christie has "entertained more people for more hours at time that any other writer of her generation." (New York Times Book Review, 1950)
stage fright : la peur de la scène
shyness : timidité
World War I (WWI) : première guerre mondiale
Cairo : Le Caire
devoted herself to : se consacra à
knowledge : savoir, connaissance
egg-shaped : à la forme d'un oeuf
murderer : meurtrier
little grey cells : petites cellules grises
pattern : structure, réseau
elderly : âgé
spinster : vieille fille
empathy : compassion
The City : La City (à Londres)
Near East : le Proche-Orient
settings : décors
health : santé
among others : entre autres
translations : traductions
entertained : a diverti
The Murder of Roger Ackroyd (1926)
In the quiet village of Kingís Abbot a widowís suicide has stirred suspicion ñ and dreadful gossip. There are rumours she murdered her first husband, that she was being blackmailed and that her secret lover was Roger Ackroyd. Then Ackroyd is found murdered - and all the members of the household stand to gain from his death. Hercule Poirot, who has retired to Kingís Abbot to grow vegetable marrows, is reluctantly drawn into finding an extremely clever, and devious, killer.
(a semé - commérages - a fait du chantage - sournois)
The Murder at the Vicarage (1930)
The murder of Colonel Protheroe is a shock to everyone in St. Mary Mead, though hardly an unpleasant one. Now the vicar, who had declared that killing the detested Protheroe would be a service to the world, as well as his young and flirtatious wife, could be considered suspects. And what about the faithless Mrs. Protheroe, or her lover, the young artist Lawrence Redding? Jane Marple is at her shrewdest in this delightfully intricate mystery.
(à peine - vicaire - perfide - la plus perspicace - complexe)
Murder on the Orient Express (1934) - worksheets
Just after midnight, a snowdrift stops the Orient Express in its tracks. The luxurious train is surprisingly full for the time of year. But by the morning there is one passenger less. An American lies dead in his compartment, stabbed a dozen times, his door locked from the insideÖRed herrings galore are put in the path of Hercule Poirot to try and keep him off the scent but in a dramatic dÈnouement he succeeds in coming up with not one, but two solutions to the crime.

(congère - mort - poignardé - fausses pistes)
Death on the Nile (1937)
Linnet Doyle is young, beautiful, and rich. She's the girl who has everything - including the man her best friend loves. Linnet and her new husband take a cruise on the Nile, where they meet the brilliant detective Hercule Poirot. It should be an idyllic trip, yet Poirot has a vague, uneasy feeling that something is dangerously amiss...
(croisière - qui cloche)
TOP
of the page
---

DAHL
Lamb to the Slaughter
01
02
03
04

DEFOE
Daniel (1660-1731)



Daniel Defoe was born in London in 1660, the son of a butcher named James Foe. He changed his name when he became a writer circa 1695, although it was not his only pseudonym : others included "Eye Wit- ness", "Andrew Morton, Merchant", and amusingly, "Heliostropolis, se- cretary to the emperor of the Moon". Initially, Defoe spent time at Mor ton's academy for Dissenters but following certain travels on the conti- nent that took in France and Spain, he settled down as a hosiery mer- chant in Cornhill and married Mary Tuffley. Defoe took part in Mon- mouth's rebellion and it was whilst in hiding after the Duke of Mon- mouth's execution that he noticed the name "Robinson Crusoe" in a churchyard, carved on a stone. He recalled the name and it became the title of his most famous hero some thirty-four years later. In 1688, Defoe joined the forces of William III. In the late 1690s, his first important work began to appear, with "An Essay upon Projects" (1697) and the extremely popular satirical poem "The True-Born English man" (1701). Defoe's ironic pamphlet "The Shortest Way with Dissenters " (1702) demanded the total suppression of dissent - he himself was a Dissenter - and got him imprisoned. This unfortunate circumstance turned out to be a triumph for the writer, however. While he stood in the pillory for three days, the crowd bought copies of and then chanted his "Hymn to the Pillory",that he had written in prison. A Tory politician Harley, managed to get Defoe a pardon and gave him new employ- ment as a secret agent, which he held between 1703 and 1714. Defoe wrote numerous pamphlets for Harley and also began A Weekly Re- view of the Affairs of France (later A Review of the State of the British Nation). Defoe wrote this paper three times weekly and almost entirely on his own, providing not only political discussion but lighter pieces on love and gambling for example. He was imprisoned again, briefly, for anti-Jacobite pamphlets in the early 1710s and was convicted of libel-ling Lord Annesley in 1715.
It was in his later years, that Defoe wrote the novels for which he is now famous. They brought him great success. 1719's "Robinson Cru- soe" and its sequel, "the Farther Adventures of Robinson Crusoe", are pro bably the most famous, but soon he had published "Captain Single ton" (1720), "Moll Flanders" (1722), "A Journal of the Plague Year" (1722) and "Roxana" (1724). These novels were extremely influential and showed a journalist's interest in realistic description. Many of the works written after Roxana were travel books (e.g. "A New Voyage round the World" (1724) and "A Tour through the Whole Island of Great Britain" (1724-6)). Defoe's simple but effective prose style ensured him widespread po- pularity and he is seen as the father of the English Novel, as well as the first journalist of great individual merit.
circa : vers
hosiery : bonneterie
churchyard : cimetière
unfortunate : malheureux
Tory : parti conservateur anglais
gambling : jeux d'argent
libelling : calomnie
widespread : considérable
Resource PAGE

Robinson Crusoe (1719)
Full TEXT
A shipwrecked survivor is washed up on a deserted island, where he li ves alone until he rescues a savage. Naming the man Friday, the two continue their lonely existence until they leave for England. Crusoe's tale spans 28 years and is probably based on the true story of Alexan der Selkirk, who lived on a deserted island for five years.
TOP
of the page
---
DICKENS
Charles (1812-1870)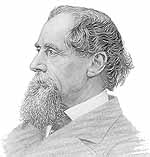 C
harles Dickens was born in Portsmouth, England on February 7th 1812, the second of eight children. His father was a clerk working for the Navy Pay office and was imprisoned for debt when Charles was very young. Due to the lack of funds, Dickens went to work at a
blacking warehouse
when he was twelve. His brush with hard times and poverty affected him deeply, and he later recounted his experiences in the semi-autobiographical
"David Copperfield"
. A concern for social justice and reform which surfaced later on in his writings, grew out of the neglect and harsh conditions he experienced in the warehouse. Although he had little formal schooling, he was able to teach himself
shorthand
, leading him to a job as a parliamentary reporter at a newspaper. While he published several
sketches
in magazines, it was not until he wrote
"The Pickwick Papers"
from 1836-7 that he experienced true success. A publishing phenomenon, it was published in monthly
installments
and sold over forty thousand
copies
for each issue. The year 1836 also saw his marriage to a Catherine Hogarth, who was the daughter of a fellow co-worker at the newspaper. Their marriage was not a happy one, but tthey had ten children before their separation in 1858.
"Oliver Twist" and "Nicholas Nickleby" followed; both were published in monthly installments and reflected simultaneously Dickens' understanding of the underclass and his comedic genius. In 1843, Dickens published one of his most famous works, "A Christmas Carol". In this story , it was evident how Dickens was becoming disenchanted with the economic philosophy of the world; he blamed much of society's ills on people's obsession with earning money and acquiring a status based on money. His travels abroad, first to America and then all over Europe, in the 1840s began a different stage in his life. His writings became more serious and involved more planning on his part. In "David Copperfield" (1849-50) the reader found the same flawed world that Dickens had discovered as a young boy. Other novels were to follow. In the weekly periodicals he started, "Household Words" (1850) and "All the Year Round" (1859), he published such well-known novels as "Tale of Two Cities" and "Great Expectations". Dickens first thought of setting a novel in the time of the French Revolution. A year later, Dickens went through his own form of social change as he wrote the novel; he separated from his wife, and revitalized his career by making plans for a new weekly literary journal called "All the Year Round". In 1859, "A Tale of Two Cities" premiered in parts in this journal. It was popular, not only from the fame of its author, but also for its short length and radical (for Dickens) subject matter. Dickens' health started deteriorating in the 1860s. He started public readings of his works in 1858 : he became very tired. On June 9th 1870, Charles Dickens died and was buried in the Poet's Corner of Westminster Abbey. Though "The Mystery of Edwin Drood" was unfinished at the time of his death, he had written fifteen substantial novels and countless shorter pieces. His legacy is clear. While he pointed out problems within societyña blinding and mercenary greed for money, in all sectors in society, and a wrong inequality, he offered us, at the same time, a solution. Through his books, we come to understand the virtues of a loving heart and the pleasures of home in a flawed, cruelly indifferent world. In the end, the lesson to take away from his stories is a positive one. Dickens' writings have shown readers over generations the reward of being truly human.
blacking : cirage
warehouse : entrepôt
shorthand : sténographie
sketches : croquis, esquisse
installment : épisode
copies : exemplaires
blamed : condamner
ills : maux
flawed : imparfait
length : longueur
though (although) : bien que
blinding : aveuglant
greed : avidité, cupidité
reward : récompense
Oliver Twist (1837-9)
A Christmas Carol (1843)
David Copperfield (1848-9)
A Tale of Two Cities (1859)


Recreational resources on Dickens

Dickens Page
novels, characters, glossary, illustrations, timeline, London map, FAQ...
TOP
of the page
---

DOYLE
Sir Arthur Conan (1859-1930)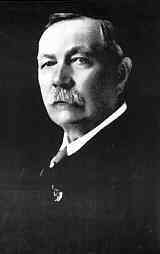 Arthur Conan Doyle was born to a family of Roman Catholics in Edin- burgh, in 1859. His father, Charles, was a civil servant who suffered from epilepsy and alcoholism. He was educated in Jesuit schools and eventually lost his faith in Catholicism in favor of his Jesuit training. He later used his friends and teachers from Stonyhurst College as ins piration for characters in his Holmes stories. Doyle married Louise Haw kins in 1884 and then in 1885 he graduated as a doctor from Edin- burgh University. After graduation Doyle practiced medicine and spe- cialized in eye care in Hampshire. He remained there until 1891 when he became a full time writer. His first story, a Sherlock Holmes novel was called "A Study in Scarlet"(1887).
Doyle followed his first novel with "The Sign of Four" and then in 1891 "The Adventures of Sherlock Holmes" was published by the Strand Magazine. His works were met with public approval and he soon became quite popular, in fact he became, in the 1920s, one of the highest paid writers in the world. But the massive initial popularity had an affect on Doyle and by the end of 1891 he had sworn to end the series, which he thought he achieved by killing Sherlock Holmes in "The Final Problem", which was published in December of 1893.
During the South African War (1899-1902) Doyle served as a physician in a field hospital, where he wrote "The Great Boer War" in which he de- fended the policy of his homeland. After the war, in 1902, Doyle retur ned to England and was knighted. He then took up the pen again for the revered detective and published "The Hound of the Baskervilles", a prequel, in 1902. He then resurrected his dead logician in "The Empty House" and continued writing short stories about Holmes and Watson. In 1906 Doyle ran for Parliament but failed to be elected, the next year his wife, long ill, died. Shortly after his wife's death Doyle remar- ried to Jean Leckie. Then, in WWI, his son died. This was a tragedy for Doyle and it affected him deeply. As a result he dedicated the rest of his life to spiritual causes. His last book, a collection of short stories known as "The Casebook of Sherlock Holmes" was published in 1927. Doyle died of heart disease on July 7th 1930.
civil servant : fonctionnaire
eventually : finalement
faith : foi
graduated : a été diplômé
sworn : avait juré
achieved : réussi
policy : politique
homeland : patrie
prequel : événements antérieurs
failed : a échoué
The Adventures of Sherlock Holmes
TOP
of the page
---

SHAKESPEARE
William (1564-1616)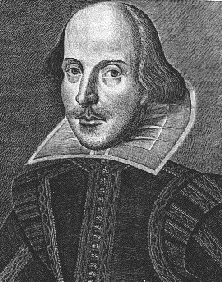 William Shakespeare was born on April 23rd 1564 to John Shakespeare and mother Mary Arden some time in late April 1564 in Stratford-upon-Avon. . His father was a prominent and prosperous alderman in the town of Stratford-upon-Avon, and was later granted a coat of arms by the College of Heralds. All that is known of Shakespeare's youth is that he presumably attended the Stratford Grammar School, and did not proceed to Oxford or Cambridge. He married Anne Hathaway in 1582. The next year she bore a daughter for him, Susanna, followed by the twins Judith and Hamnet two years later.
Seven years later Shakespeare was recognized as an actor, poet, and playwright, when a rival playwright, Robert Greene, referred to him as "an upstart crow" in "A Groatsworth of Wit." A few years later he joined up with one of the most successful acting troupes in London: "The Lord Chamberlain's Men." When, in 1599, the troupe lost the lease of the theatre where they performed (appropriately called "The Theatre"), they were wealthy enough to build their own theatre across the Thames, south of London, which they called "The Globe" The new theatre opened in July of 1599, built from the timbers of "The Theatre", with the motto "Totus mundus agit histrionem" (A whole world of players). When James I came to the throne (1603) the troupe was designated by the new king as the "King's Men" (or "King's Company"). The Letters Patent of the company specifically charged Shakespeare and eight others "freely to use and exercise the art and faculty of playing Comedies, Tragedies, Histories, Interludes, Morals, Pastorals, stage plays ... as well for recreation of our loving subjects as for our solace and pleasure."
Shakespeare entertained the King and the people for another ten years until June 19th 1613, when a canon fired from the roof of the theatre for a gala performance of Henry VIII set fire to the thatch roof and burned the theatre to the ground. The audience ignored the smoke from the roof at first, being to absorbed in the play, until the flames caught the walls and the fabric of the curtains. Amazingly there were no casualties, and the next spring the company had the theatre "new builded in a far fairer manner than before." Although Shakespeare invested in the rebuilding, he retired from the stage to the Great House of New Place in Statford that he had purchased in 1597, and some considerable land holdings ,where he continued to write until his death in 1616 on the day of his 52nd birthday.
alderman : conseiller municipal, échevin
twins : jumeaux
playwright : dramaturge
lease : bail
wealthy : aisé, riche
motto : devise
entertained : a diverti
roof : toit
thatch : chaum
casualities : blessés
purchased : a acheté
Complete biography
Tragedies - Histories - Comedies - Poetry here
TOP
of the page
---

STEVENSON
Robert Louis (1850-1894)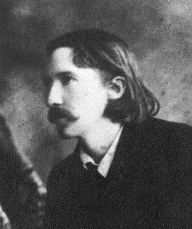 Robert Lewis Balfour Stevenson was born in 1850 in Edinburgh. He was the only son of Thomas Stevenson, a prosperous joint-engineer to the Board of Northern Lighthouses, and Margaret Balfour, daughter of a Scottish clergyman. Thomas Stevenson invented, among others, the marine dynamometer, which measures the force of waves. Thomas's grandfather was Britain's greatest builder of lighthouses. Stevenson was largely raised by his nanny, Alison Cunningham, whom he devoted "A Child's Garden of Verses" (1885). Since his childhood, Stevenson suffered from tuberculosis. During his early years, he spent much of his time in bed, composing stories before he had learned to read. At the age of sixteen he produced a short historical tale. As an adult, there were times when Stevenson could not wear a jacket for fear of bringing on a haemorrhage of the lung. In 1867 he entered Edinburgh University to study engineering. Due to his ill health, he had to abandon his plans to follow in his father's footsteps. Stevenson changed to law and in 1875 he was called to the Scottish bar. By then he had already started to write travel sketches, essays, and short stories for magazines. His first articles were published in The Edinburgh University Magazine (1871) and The Portofolio (1873).
In a attempt to improve his health, Stevenson travelled on the Continent and in the Scottish Highland. These experiences provided much material for his writings. An account of Stevenson's canoe tour of France and Belgium was published in 1878 as "An Inland Voyage". It was followed by "Travels with a Donkey in the Cévennes", based on his walking trip in France. "I travel for travel's sake," Stevenson wrote. "The great affair is to move." While in France Stevenson met Fanny Vandegrift Osbourne, a married woman with two children, Belle and Lloyd. She returned to the United States to get a divorce. In 1879 Stevenson followed her to California where they married in 1880. Stevenson gained first fame with the romantic adventure story "Treasure Island", which appeared first serialized in Young Folks 1881-82. Before it was published in book form Stevenson revised the text. The Strange Case of Dr Jekyll and Mr Hyde, published in January of 1886, sold 40,000 copies in six months in Britain. Stevenson said later that its plot was revealed to him in a dream.
Stevenson's father died in 1887. From the late 1880s Stevenson lived with his family in the South Seas, where he had purchased an estate in Vailima, Samoa. Stevenson died of a brain haemorrhage on December 3, 1894, in Vailima. Fanny Stevenson died in 1914 in California. Her ashes were taken to Samoa and buried alonside her husband, on the summit of Mount Vaea. Stevenson's last work, "Weir of Hermiston" (1896), was left unfinished, but is considered his masterpiece. Stevenson's best-known work of horror, The Strange Case of Dr. Jekyll and Mr. Hyde has since his death inspired several sequels by other hands, including Dr. Jekyll and Mr. Holmes by Loren D. Estelman (1979), Jekyll, Alias Hyde: A Variation by Donald Thomas (1988), The Jekyll Legacy by Robert Bloch and Andre Norton (1990) and Mary Reilly by Valrie Matin (1990) with Julia Roberts and John Malkovitch.
engineer : ingénieur
lighthouses : phares
nanny : nourrice
ill heath : mauvaise santé
law : le droit
bar : s'inscrire au barreau
improve : améliorer
fame : gloire, renommée
plot : intrigue, histoire
had purchased : avait acheté
ashes : cendres
sequels : suites
Travels with a Donkey in the Cévennes
The Strange Case of Dr Jekyll and Mr Hyde
TOP
of the page