background
the Bayeux Tapestry
selection of links
printables
BACKGROUND
ORIGINS
Britain's first populations were the
Celts
/k/. Britain was not ruled as a nation but it was divided in many different
tribes
fighting (1) against each others.
The
Romans
ruled Britain from
43 AD to 410 AD
(Anno Domini). Emperor Hadrian had a long wall built in 122 AD in the North of England (about 120 km long). Towards the end of the Roman period,
invaders
(2) attacked Britain (East coast) : the
Saxons
, the
Angles
and the
Jutes
).
From the 790s,
Vikings
landed in England. They came from Scandinavia. They killed, plundered (3) and took slaves (4).
WILLIAM the CONQUEROR (1027-1087) - first Norman King
illegitimate son of :
Duke Robert the Magnificent and a tanner's daughter
married Matilda of Flanders
4 sons and 5 daughters
The Saxon King of England,
Edward the Confessor
had no heir (5) to the thrown. So he sent
Harold Godwinson
, his brother-in-law (6), on a mission to William, Duke of Normandy, (Edward's second cousin). He would become king at Edward's death (7).
Harold told William about Edward's promise and Harold swore (8) he would be the next king and he would obey him (9).
Edward died in January 1066.
However (10) Harold was crowned on the same day.
So William and his army decided to invade England.
It took several months for William to prepare his army. He had over 7,000 soldiers. Most of them were knights (11). Over 700 ships (12) were needed to take his
soldiers
and
horses
from France to England. They left from
St Valéry
in France to
Pevensey
on the south coast of England (September 27th-28th 1066).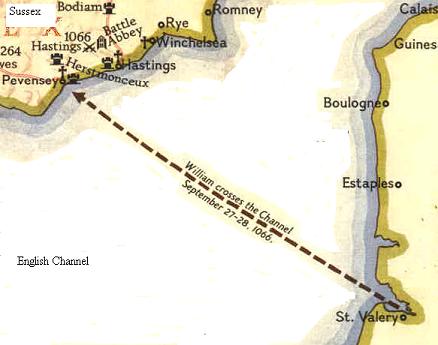 extracted from history.wisc.edu
The two armies met at
Hastings
. The battle took place on
October 14th 1066
. Harold and his army were defeated. Harold was killed (13). On
Christmas Day 1066
William was crowned
King of England
in Westmnister Abbey. After the Battle of Hastings, William was called
William the Conqueror
(14).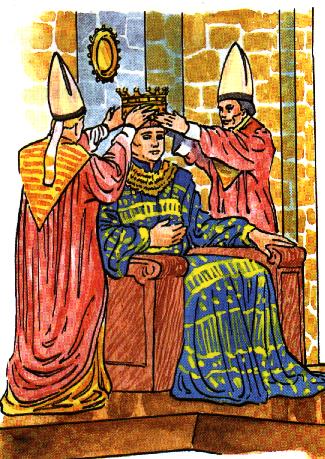 Coronation of King William
Westminster Abbey, London, 1066
The Conquest was finished around 1072 when the regional revolts were stopped.
In
1085
the Domesday Book
(15) was started in order to raise
taxes
: he listed all English land and property. He was a great administrator.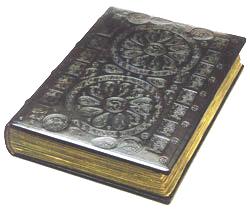 the Domesday Book
He made England into a
feudal society
(16).
Normans brought (17) their
language
and
culture
to England.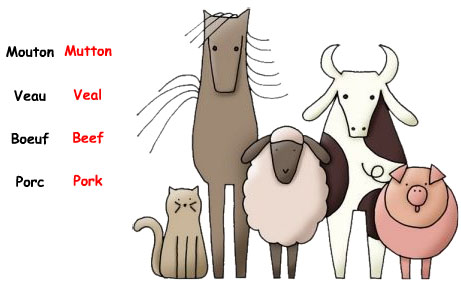 Activity on word origin : click!
created by Renée Maufroid
The next King would be his middle son,
William Rufus
, his favourite.
Robert, the eldest son (18) , became Duke of Normandy.
Henry, the youngest (19) , inherited a fortune.
He
died
in Rouen on September 9th
1087
.
He was buried (20) in St Stephen's in
Caen
, Normandy.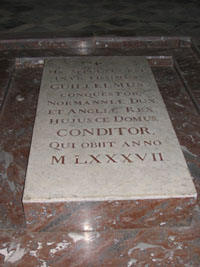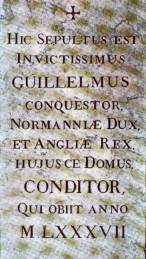 William the Conqueror's tomb
Caen - St Stephen's ("St Etienne")
HIC SEPULTUS EST
INVICTISSIMUS
GUILLELMUS
CONQUESTOR
NORMANNIAE DUX
ET ANGLIAE REX
HUJUSCE DOMUS
CONDITOR
QUI OBIIT ANNO
MLXXXVII
Ici a été enseveli le très invaincu Guillaume le Conquérant, duc de Normandie, roi d'Angleterre, fondateur de cette maison, qui mourut en 1087.
The
Bayeux Tapestry
(21) tells the story of William the Conqueror.
It is 70 metres long and 50 cm high (20 inches tall and 231 feet long).
It is the longest piece of embroidery in the world.
The Tapestry starts with Edward the Confessor and Harold.
It ends with William, King of England.
It was commissioned by
Odo
(Bishop (22) of Bayeux and William's half-brother), and it was probably made in Canterbury (Kent),
England
.
The Tapestry was intended as a monument to his half-brother's achievement (23) that he wanted to display in his new
cathedral
at Bayeux.
Visit the Bayeux Tapestry !
Tapisserie de Bayeux
Centre Guillaume le Conquérant
rue de Nesmond - 14400 Bayeux (France)
tel. 02 31 51 25 50
tapisserie@mairie-bayeux.fr
NOTES
(1) to fight (fought - fought) against : lutter contre
(2) invader : envahisseur (to invade : envahir)
(3) to plunder : piller
(4) to take (took - taken) slaves : prendre pour esclaves
(5) heir : héritier (le /h/ ne se prononce pas)
(6) brother-in-law : beau-frère
(7) death /e/ : la mort (dead /e/ : mort adjectif - to die /ai/ : mourir)
(8) to swear /e/ (swore - sworn) : jurer
(9) to obey : obéir à (pas de préposition en anglais)
(10) however : cependant
(11) knight : chevalier (le "k" ne se prononce pas, comme dans "know" ou "knife")
(12) ship /i/ : bateau, navire
attention prononciation : /i/ court <> /i:/ long - sheep - veut dire mouton !!
(13) to kill : tuer
(14) William the Conqueror : Guillaume le Conquérant
(15) Domesday Book : recensement, document cadastral. Guillaume voulut connaître, de façon précise, les biens et ressources du pays. L'"enquête" fut terminée en 1086; elle devait servir de base à l'établissement de l'impôt royal.
C'est un document essentiel pour connaître l'état de l'Angleterre au début de l'époque normande. L'Angleterre comptait
2 millions d'habitants environ
. La plus grande partie du pays était couverte de
forêts
,
marécages
et
landes
. L'élevage des
moutons
et des
porcs
et la culture des
céréales
constituaient les principales ressources du pays.
(16) feudal society : société féodale
(17) to bring (brought - brought) : apporter
(18) eldest son : fils aîné
(19) youngest son : fils cadet
(20) to bury : enterrer
(21) Tapestry : Tapisserie
(22) Bishop : Evêque
(23) achievement : exploit, réussite
---
The BAYEUX TAPESTRY

Scene by scene : Tapestry and comments
bayeuxtapestry.org.uk
CHAPTERS
Journey to Normandy
The prisoner
The mysterious lady
Brothers in arms
The oath
The return
The King is dead
Long Live the King
Planning the invasion
The crossing
Beachhead
William rides to war
The Battle of Hastings
---
SELECTION of LINKS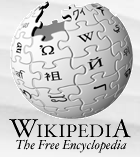 Wikipedia en.wikipedia.org

thumbnails rubens.anu.edu.au

interactive page - choose Mac or PC
essentialnormanconquest.com

history in simple English woodlands-junior.kent.sch.uk

summary, quiz, worksheets normanconquest.co.uk

online lessons schoolhistory.co.uk
---
PRINTABLES

dozens of printables! schoolhistory.co.uk
TOP
of the page