26th June - 9th July
introduction
images & videos
champions websites
links
The All England Lawn Tennis and Croquet Club
is located in the South West of London, England.
access by tube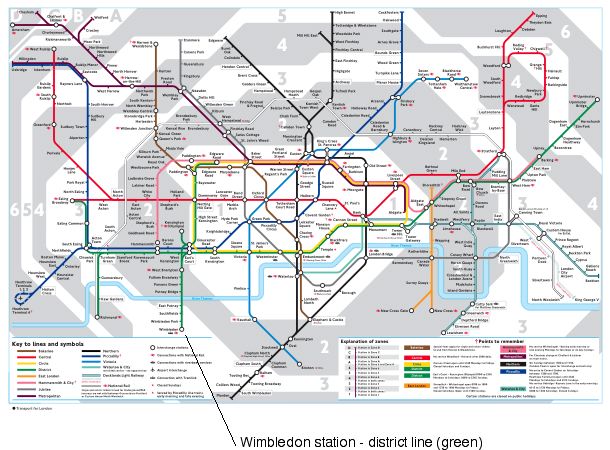 more detailed access
Beginnings
The Championships were first played in 1877 at a ground near Worple Road, Wimbledon. It was only about Gentlemen's Singles. In 1884, the All England Club added Ladies' Singles and Gentlemen's Doubles. Ladies' Doubles and Mixed Doubles were added in 1913.

Wimbledon Champions in 2005
(Wimbledon, England, June 20–July 3, 2005)
Men's singles
Roger Federer defeated Andy Roddick 6–2, 7–6 (7–2), 6–4
Women's singles
Venus Williams defeated Lindsay Davenport 4–6, 7–6 (7–4), 9–7
Men's doubles
Stephen Huss - W. Moodie defeated Bob Bryan - M. Bryan
7–6 (7–4), 6–3, 6–7 (2–7), 6–3
Women's doubles
C. Black - L. Huber defeated S. Kuznetsova - A. Mauresmo
6–2, 6–1
Mixed doubles
Mary Pierce - Mahesh Bhupathi defeated Tatiana Perebiynis - Paul Hanley 6–4, 6–2
---
Selection
of images & videos


2006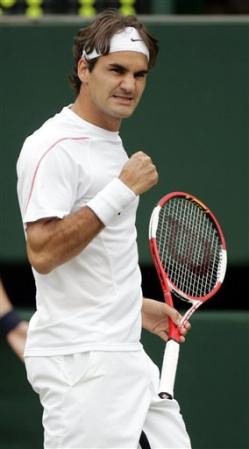 Roger Federer (Switzerland) 2006 vs. Rafael Nadal
6-0, 7-6, 6-7, 6-3
Roger claims fourth Wimbledon win
from news.bbc.co.uk
Switzerland's Roger Federer has won his fourth Wimbledon title in a row, beating Spain's Rafael Nadal in four sets in the men's final.
Roger stormed to a two-set lead before Rafael hit back to win the third set.
But the 24-year-old Swiss marched on to claim the fourth set and win the contest 6-0 7-6 6-7 6-3.
Rafael, 20, was playing in his first Wimbledon. Roger had not lost a set going into the final. He is ranked one in the world, with Rafael at two.
"It was fantastic. I never thought it was possible, but I made it," said Roger of his achievement.
He accepted his trophy wearing a white jacket, embroidered with three racquets to represent his previous Wimbledon victories.
He joked that he would have to get a new one made following his latest win.
The women's competition was won by France's Amelie Mauresmo who beat Belgium's Justine Henin-Hardenne in Saturday's final.
Listen to the article
---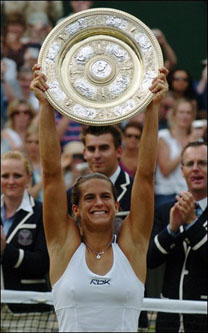 Amélie Mauresmo (France) 2006
vs. Justine Henin-Hardenne
2-6, 6-3, 6-4
Amelie crowned Wimbledon champion
from news.bbc.co.uk
French tennis star Amelie Mauresmo has won the Wimbledon ladies' title after a three-set thriller with Belgian player Justine Henin-Hardenne. Amelie lost the first set 2-6 but bounced back to win the next two sets 6-3 6-4. She climbed into the stands to celebrate her victory with her coach. She became the first Frenchwoman to take the title since 1925.
"This trophy is very special in the world of tennis. I am very proud," Amelie told the BBC after her triumph.
Justine said : "She played better than me. She was just too good today." The pair's last meeting had been in the in the final of the Australian Open in January, when Amelie won after Justine pulled out because she was ill.
The men's final takes place on Sunday, when Roger Federer defends his title against Rafael Nadal.
Listen to the article
---


Previous tournaments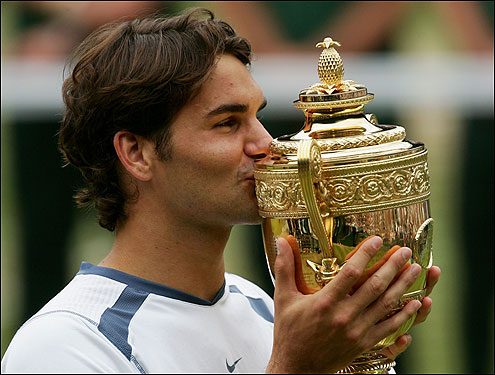 Roger Federer (Switzerland) 2005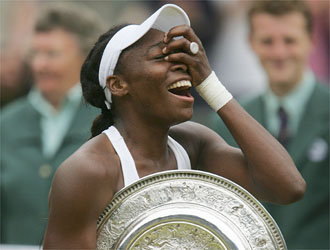 Venus Williams
(USA) 2005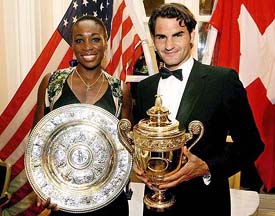 both champions - flags behind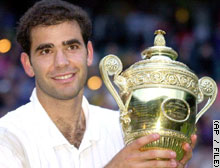 Pete Sampras (USA) (93-95-97-00)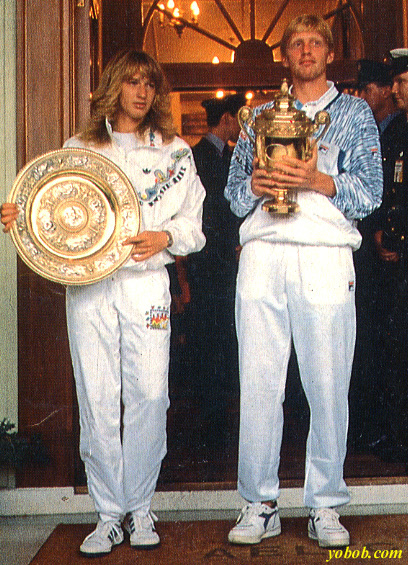 Steffi Graf - Boris Becker
(Ger.)
Graf won in 1988, 1989, 1991, 1992, 1993, 1995 and 1996
Becker won in 1985, 1986 and 1989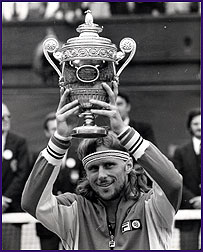 Björn Borg
(Sweden)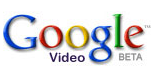 geographical location 30 seconds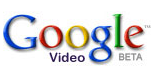 Roger Federer 20 seconds
---

Champions websites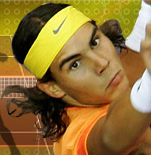 Rafael Nadal

Spanish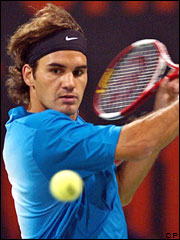 Roger Federer

Swiss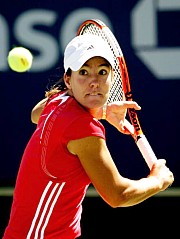 Justine Henin Hardenne

Belgian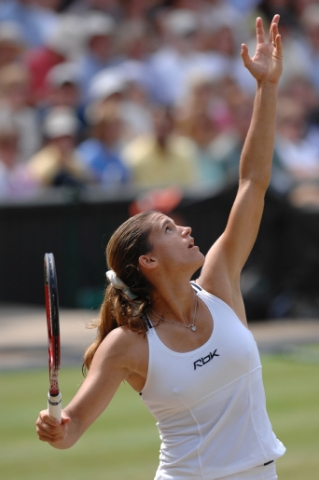 Amélie Mauresmo

French
---
Selection of links

the Official Website wimbledon.org

TennisLife magazine tennislife.com

BBC newsround special report news.bbc.co.uk
BBC Sport news.bbc.co.uk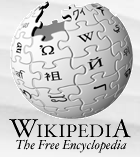 Wikipedia en.wikipedia.org